I have been looking for a mirror for months as we redid our living room. I saw two potentials today at Target and then my mother called. She said Kirklands at the Prime Outlets was having a sale and I hopped in the car and picked her up. Once there I found all sorts of great things! I went a little crazy but I was able to purchase my mirror for only $39.99! I also found some great picks for the vase on the floor and 3 great matching picture frames to be hung in the living room later.
It took some measuring, remeasuring and then calling my step-dad but finally we got the mirror hung up and straight.
Then I put up some
Christmas
white lights and covered them with a white gauze scarf. Then came our word for the year WISH. Dream will be next if I can find one. I love word art but it has to be just so and this word was just beautiful.
Then came some glass jars, a few Longaberger baskets just cuz, a blue and brown vase, some of my grandmother's books and a topiary. I will spray paint the bottom of the topiary silver but for now it adds dimension and height.
Yes I am aware that our heat vent is not back in place at the top right hand side of the picture. It will be done tomorrow. I promise. I am ashamed to say it has been out for a month! I forgot to put it back in for our Christmas eve party after painting that wall and then doing the picture molding and it has sat in the corner of our room ever since. I guess I just don't notice it. But it will be fixed.
Stay tuned for a our new Project Pembroke Linky where each Saturday we feature projects done by YOU!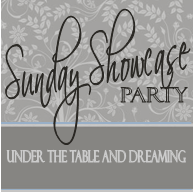 TatertotsandJello