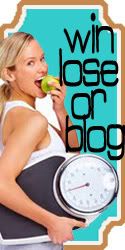 Staring April 1st, I will be 1 of 8 contestants competing on season 4 of Win, Lose, or Blog. You can follow my journey there with weekly weight loss updates as well as my own blog to post my journey (I'll update more on that blog later).
Win, Lose, or Blog will also be hosting some AMAZING giveaways during the season that I will be sure to let you know about here. For now, check our Win, Lose, or Blog, become a follower and come along for the fun!
Thanks so much for the opportunity girls!